DIY CARGO BIKE | Woodi Cargo Vario | Building instructions in the menu "Bauanleitung"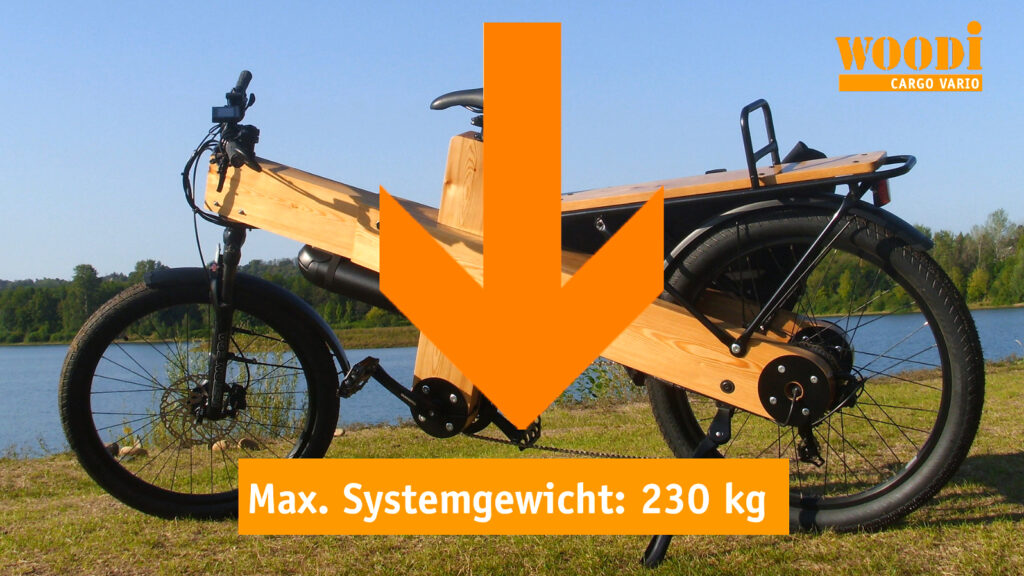 DIY CARGO BIKE BUILDING COSTS 2020
It is not easy to quantify the exact construction costs of the diy cargo bike Woodi. Depending on what materials and components are already available, there can be big differences in the total costs. The same goes for the quality of the individual parts. The individual items are all itemized in the cargo bike assembly instructions (as of 2020).
The largest items by far are the motor and battery. With a good used motor or battery, you can certainly save one or two euros. Even with the exclusive use of new parts, the total costs are far below half of what a long-tail with a motor in series production costs in the shop.
The utility of the Woodi is not only to combine load transport and driving fun with pleasure and pleasure in building it yourself. Ultimately, a bike that you built yourself from scratch is of course best repaired yourself. If the Woodi has been built with care, you will enjoy it for a long time if you take good care of it.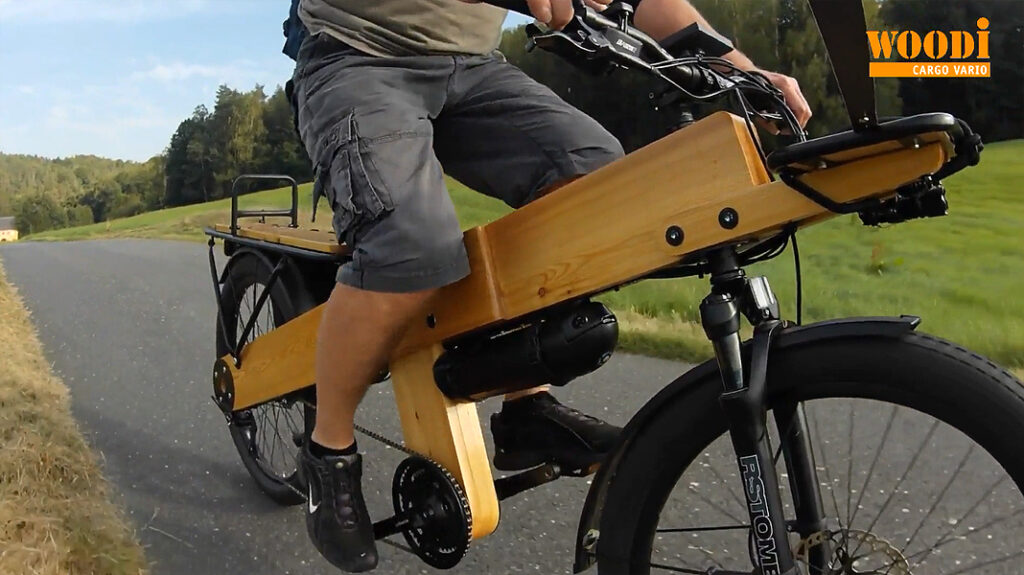 There are many different frame construction approaches, most of them are optically based on the filigree models made of steel and aluminum – if only for weight reasons. Sometimes composite materials, e.g. Multiplex used for frame construction. The approach for the Woodi frame was a little different.
The wooden bicycle Woodi should not have the feather-light appearance of a diamond frame, but the material-typical appearance of a robust wooden construction. An ultra-light frame was neither optically nor technically the goal – but robust stability that can be built inexpensively with relatively simple means.
Due to its good properties and availability, wood was used much more in the past for the construction of the most diverse, even small things than it is today. It is one of the oldest materials and not only a miracle of nature in terms of strength values.
Many types of wood are generally suitable for building wooden bicycles, depending on availability, but there are three that are particularly well suited for such a project.
FOREWORD diy cargo bike assembly instructions
There is great interest in cargo bikes and sales are increasing. Good new developments are entering the market – sometimes at prices that correspond to the value of a small car. The idea for these cargo bike instructions arose while building and cycling the solid-looking, yet easy-to-ride e-cargo bike made of wood. The book contains detailed cargo bike construction instructions, experience reports from cargo bike practice and the basics of timber frame construction.
After not only encouraging but also thought-provoking episodes with commercially manufactured cargo bikes, the plan matured in me: Build an inexpensive diy cargo bike yourself that is suitable for the mountains within the framework of the 250 watt pedelec law! Perhaps it will be possible to combine the advantages of different cargo bike types and to minimize their disadvantages somewhat. Of course, there is no such thing as "the ultimate cargo bike" for all imaginable areas of application. Nevertheless, the bike should be variable and easy to ride. The following list of requirements resulted from these considerations:
High load capacity and stability
Long rear rack and therefore a large wheelbase
Driving behavior close to the normal bike
Suitable for mountains up to approx. 15% incline even under load or with a passenger
Frame made from renewable material
Easy and inexpensive to build
The Xiongda 2-speed cargo bike electric rear motor in the Woodi diy cargo e-bike
Thanks to the 1: 8 mountain reduction, the Xiongda 2-speed electric drive masters gradients of up to 15% with approx. 7 km / h very well and relatively relaxed, even when fully loaded. Even 20% climbs can still be driven at around 5km / h. You should keep an eye on the temperature monitoring of the motor during long uphill journeys and if necessary take a short break so that the motor does not switch off unexpectedly. (Motor has self-protection with electronic shutdown from approx. 130 degrees)
---
---
On flatter slopes or if you have the max. If the total weight is not fully utilized, it makes sense to use the 1: 4.4 normal gear even on the mountain, as the 1: 8 reduced gear switches off at 12.5 km / h.
Personally, I almost never use the existing automatic gear shifting of the cargo bike electric motor, because it sometimes results in the gear ratios switching back and forth (which is a bit annoying in the long run). You can do without this function for maximum Woodi cargo bike electric motor driving fun.
Since the diy cargo bike was designed for a relatively large payload, you can easily cope with a few more kilograms of dead weight for the benefit of greater strength and better road holding.
The frame of the diy cargo bike Woodi is designed for the greatest possible stability and not for the lowest possible weight, the solid wooden frame dampens shocks well and is still stiff and low in vibration. The Woodi is literally like the proverbial "board on the street".
Diy cargo bike as an original advertising medium
Building a cargo bike yourself is a lot of fun, but then comes the big moment: Your Woodi cargo bike is on its two wheels for the first time. It will attract a lot of curious glances along the way and cause a stir almost everywhere. That is why your cargo bike is ideally suited as a carrier for a wide variety of industries.
You can let the pure form work and leave the bike clear and originally in a wood look – set color accents – or even paint it individually in really bright colors. There are no limits to your own ideas and ideas …
After about 120 really satisfying hours of work, the diy cargo bike Woodi was on its wheels for the first time. The wooden bike has passed many an endurance test after almost 5000 km, attracted curious glances and caused a sensation. They also asked where the bike can be bought. Since I do not intend to build it in series, I looked for a way to send information about the construction of the Woodi to interested parties.
These diy cargo bike assembly instructions describe one possible route to your wooden diy cargo bike. Bringing in your own ideas and improvements is quite possible with this type of construction, provided that the safety aspects are observed. Anyone who is involved in building a wooden cargo bike has certainly already gained experience with bicycle technology.
If you add do-it-yourself basics of woodworking and a few common tools, nothing stands in the way of your do-it-yourself cargo bike project. You don't have to be a carpenter or two-wheeler mechatronics technician to be able to replicate the Woodi diy cargo bike responsibly, or to modify it according to your own ideas and adapt it to your individual needs.
Good luck and have fun building & biking | Open space wood design | Heiko Troll | Germany
FAQ
Is the Woodi a pedelec?
Of course, like any other bicycle, the self-made bicycle can also pull a bicycle trailer when a trailer hitch is installed. The auxiliary engine is powerful, small and economical. Building a bicycle with an auxiliary motor does not have to be expensive – you can also use well-preserved, used bicycle parts.
How do you build a bike yourself?
After the self-assembly, the bicycle frame is completed with standard bicycle parts such as suspension fork, wheels and bicycle lighting. The result is an inexpensive bicycle with an auxiliary motor that can easily replace a cargo trailer with the appropriate bicycle bags.
The self-made bike is completed with an on-board computer, 14-speed derailleur gears (no hub gears can be installed), hydraulic Tektro disc brakes and a heavy-duty luggage rack. This rear carrier is easy to build yourself with almost no welding required. The carrier is 85 cm long and can hold up to 70 kg.
How fast is a cargo bike?
With a bike with an auxiliary motor, the average speeds on the same route are almost always higher than with the other cargo bikes presented on this website. Although all bikes are only supported up to 25 km / h. This is due to the efficient 2-speed auxiliary motor, which pulls up the mountains well without overheating.
Once at speed, Woodi rolls quickly and easily without the help of the electric motor. I usually drive on level 1 on the flat (that's only about 50 watts of additional power). If the engine switches off at 25 km / h, the bike can be accelerated to even higher speeds using pure bio-power. Since the rear engine has no internal pedal resistance, this speed can be maintained without having to exhaust yourself completely. Of course, this only applies to relatively flat and smooth roads with no significant headwind.
How long have bicycles with a motor been around?
The first two-wheeler with a motor was around 1896/97 a simple bicycle with an auxiliary motor on the front wheel. The plan of simply bolting a motor to a bike is old. A bicycle with an auxiliary motor is no longer what it used to be: in the first half of the 20th century, it was used as the name for mopeds with internal combustion engines. Since then, of course, motorcycles have moved away from bicycle development, but various auxiliary engine designs have continued to be developed for bicycles.